MAVIS CROES
October 6, 1925 - June 3, 2007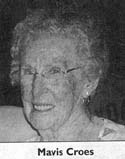 Mavis Esther Croes was born on October 6, 1925, in Clear Lake, Wis. She was the daughter of Emil and Mabel (Wright) Severson. She was baptized and confirmed at East Immanuel Lutheran Church. She grew up on a farm near Deer Park where everyone in the family worked hard. During the Depression they got by raising a big garden and being self sufficient on the farm. She graduated from Amery High School with the class of 1943.
On February 22, 1949 she was united in marriage to Lawrence Otto Croes and to this union they were blessed with six children. They farmed since 1949 near Deer Park. Mavis was a charter member of the Deer Park Homemakers (HCE) and served on the Deer Park Senior Center Board. She helped organize and found the Deer Park Library along with Mary Lou Peterson. Mavis was well known for her great meals which always included homemade bread, pies and other goodies to eat. She was also a "Mom" to many extended family and friends over the years. Mavis always said that her greatest accomplishment was her family and all those summer visitors got to be a part of that even if it was for a short time.
Community service was also important to Mavis. She participated in many things in the Deer Park Community and St. Croix County, and served on the Election Board for many years. She was an active member of St. Paul's Lutheran Church in Deer Park.
Even though she was battling cancer she found many opportunities to spend precious time with all of her family. Mavis passed peacefully at Westfields Hospital in New Richmond on Sunday, June 3, 2007, at the age of 81 years.
She was preceded in death by her parents, husband Lawrence, infant brother and sister, and brothers John and Robert Severson. Left to celebrate her life are her children: Jerry (Char) Croes, Bob (Dixie) Croes, Carol (Jim) DeYoung, Kate (Don) Cloutier, Jo (Mike) Cernohous, and Larry (Marsha) Croes; grandchildren: Cindy (Steve) Olson, Jeff Croes, Julie (Jake) West, Troy (Heather) Croes, Darren Croes, Tim (Cammi) DeYoung, Bill DeYoung, Mark Cloutier, Amy Cloutier, Anna Cernohous, Grace Cernohous, and Sam Cernohous. She also leaves great grandchildren: Riley, Kaitlyn & Madeline West, Kaitlin, Britney & Cameron Croes, Leah & Timmy DeYoung, as well as many other relatives and friends.
Funeral services were held on Thursday, June 7, 2007, at 11 a.m. at St. Luke's Lutheran Church in New Richmond, with Pastor Dan Voth officiating. Soloist was Barb Erickson and accompanist was Mary Barney.
Casketbearers were her grandchildren: Cindy Olson, Julie West, Jeff Croes, Troy Croes, Darren Croes, Tim DeYoung, Bill DeYoung, Mark Cloutier, Amy Cloutier, Anna Cernohous, Grace Cernohous and Sam Cernohous. Honorary casketbearers were: Cary & Bonnie Eastvold, Lee & Sharon Balcerek and Larry & Laura Mickelson. Interment was at the Calvary Cemetery in Deer Park, Wisconsin. The Williamson Funeral Home in Amery assisted the family with arrangements.
(New Richmond News - Thursday, June 7, 2007)