The 5th Annual
July 2, 2011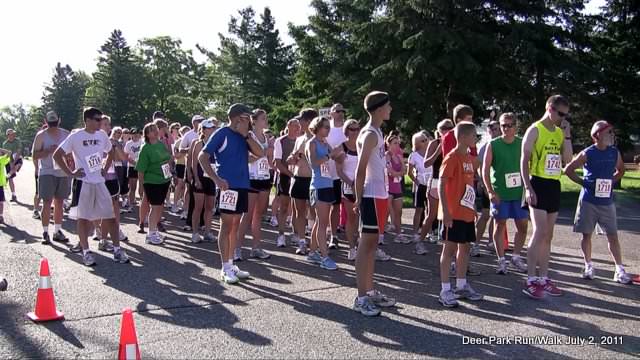 Deer Park runners are ready once again in 2011 for a 5k or 5 mile run/walk, July 2, 2011.
After a hiatus of a year, the Deer Park 5K/ 5 Mile Run/Walk comes back to life larger than ever with 78 participants. This year the race was a benefit for the adaption of Ilya and also featured a 5 mile race with 12 participants. The race organizers were once again Joe and Ilisa Ailts of Deer Park.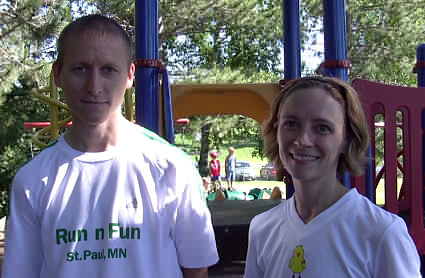 The 5 mile winners Tony Meyers and twin sister Heather (Meyers) Wimer.
The 5 mile winners were the Meyers Twins of the Dresser-St. Croix Falls area. Tony Meyers ran the 5 mile race in 27:13 the overall winner. His twin sister, Heather (Meyers) Wimer ran the 5 miles in 34:19, the overall women's winner. Heather remarked that she ran the race 7 minutes slower and was born 7 minutes behind her brother Tony.
If Tony had been running the 5K, his time would have been just under 17 minutes, and Heather's 5K time would have been about 21:19.
The race day on Saturday morning was close to ideal with clear skies, calm winds and temperatures around 70 degrees.
Nick Sokolowski in the 13-19 year class comes in first overall wrapping up the 5K run in 19:17.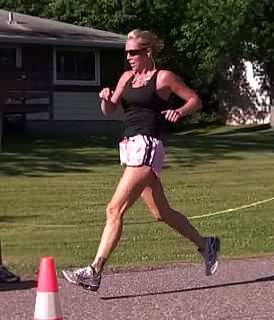 Kathryn Grinnell, in the 20-29 year class, is the overall female winner running the 5K in 31:54.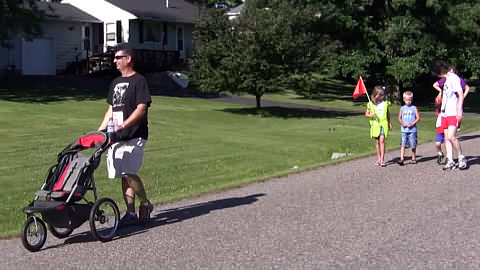 The walkers of the Deer Park Run/Walk finish the race too. It just takes a bit longer but it still is fun.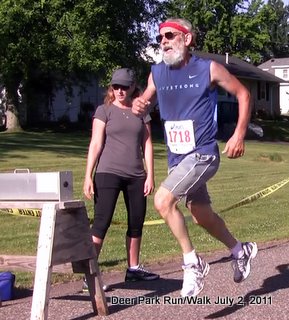 Gabby Lubich, in the 50-59 year category, turns in an impressive performance running 5K in 20:20.
The video is 7 minutes 55 seconds long. Due to an adverse lighting condition the 5 mile runner arrivals were not recorded.
Deer Park 5K Results July 2, 2011
sorted by time, sex and age
66 5K participants
Name
Time
Comments
Name
Time
Comments

Men (25) 0-12 years

Women 30-39 years

Jackson Sokolowski
21:15
(1st in age group)
Libby Hose
27:14
(1st in age group)
Forrest Alton
41:57
(2nd in age group)
Jen Olander
31:54
(2nd in age group)
Jack Alton
42:11
Cori Hofmeister
33:47
Brock Swenson
54:38
Carrie Borgstrom
34:56
Michelle Carlson
34:56
Men 13-19 years
Janel Krueger
51:32
Nick Sokolowski
19:17
(overall male winner)
Sara Swenson
53:58
Andrew Nelson
19:44
(1st in age group)
Kelly Swenson
54:38
Josh Monnot
22:48
(2nd in age group)
Marcy Raspberry
61:00
Nicolas Fehlen
36:41
Angela Peterson
61:00
Men 20-29 years
Women 40-49 years
Mike Tansey
21:56
(1st in age group)
Mary Glieden
21:03
(overall female winner)
Joe Hofmeister
26:48
(2nd in age group)
Janice Nilssen
32:12
(1st in age group)
Mike Kohles
35:08
Melissa Buhr
32:12
(2nd in age group)
Kris Thomas
39:04
Men 30-39 years
Julie Elmer
48:47
Mike Swenson
26:19
(1st in age group)
Cheryl Meier
51:30
Mike Hofmeister
28:28
(2nd in age group)
Stacy Johansen
52:41
Jesse Carroll
33:29
Amy Link
53:08
Judd Alton
42:11
Women 50-59 years
Men 40-49 years
Lori Nuebel
30:23
(1st in age group)
Ron Nelson
20:08
(1st in age group)
Nancy Gleason
39:04
(2nd in age group)
Jeff Geving
22:22
(2nd in age group)
Linda Stalhiem
41:23
Dave Wirth
28:09
Pat Donahue
41:46
Mark Hein
31:56
Katie Jones
45:04
Allan Fehlen
37:54
Mary Hofmeister
50:11
Joe Szekeres
54:31
Karen Zemke
52:20
Rebecca Carroll
61:00
Men 50-59 years
Gabby Lubich
20:20
(1st in age group)
Women 60+ years
Daryl Jones
28:53
(2nd in age group)
Kris Lubich
29:41
(1st in age group)
Robin Haberman
29:59
Kathy Jensen
49:33
(2nd in age group)
Men 60+ years
Deer Park 5 Mile results (12)
Jeff Reed
25:50
(1st in age group)
Men 20-29 years
Brian Nolde
37:19
(1st in age group)
Women (41)
Women 13-19 years
Men 30-39 years
Anne Frank
23:50
(1st in age group)
Tony Meyers
27:13
(overall male winner)
Women 20-29 years
Men 40-49 years
Kathryn Grinnell
31:54
(1st in age group)
Joe Kelzer
34:30
(1st in age group)
Amanda Likewise
32:18
(2nd in age group)
Dan Keilen
41:31
(2nd in age group)
Rachel Alexander
32:23
Laura Carroll
33:29
Men 50-59 years
Kristen Rolling
33:47
Mark Sampson
46:27
(1st in age group)
Cassie Johnson
40:16
Brittney Johnson
40:16
Men 60-69 years
Ashley Emerson
43:10
Jim Baillargeon
37:12
(1st in age group)
Chaza Hofmeister
50:11
Nicole Jensen
51:20
Women 30-39 years
Brittanee Zemke
51:20
Heather Meyers Wimer
34:19
(overall female winner)
Jenna Schone
51:20
Holly Connors
34:40
(1st in age group)
Heather Larson
35:16
(2nd in age group)
Tammy Briseno
37:49
Tera Busker
39:00
Women 40-49 years
Karla Szekers
52:02
(1st in age group)
Name
Time
Comments
Name
Time
Comments

[5K Run/Walk 2009] [5K Run/Walk 2006] [5K Run/Walk 2005] [Home]