November 11, 2004- RSS is here!
RSS (Really Simple Syndication or Rich Site Summary) along with Atom and other emerging standards are XML-based technologies used by news sites and publishers to deliver content summaries to RSS readers.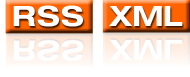 Instead of looking through dozens of web sites for new content, RSS readers can search through RSS/XML files for short descriptions. The large news sites have been the first to use this new format.
The Deer Park Community Center web site has recently begun archiving new entries so this web site can be searched as easily as the large web sites. RSS readers can operate using stand alone programs or with standard web browsers.
Pluck operates within Internet Explorer and AWASU will run from your desktop.
This is new technology and Deer Park is one of the early entrants into RSS feeds. The current RSS feed is at the right.
The Deer Park RSS feed link below can be pasted into the RSS reader of your choice.
Live Bookmarks in Firefox Supported!
The RSS/XML link supports the live bookmark feature in Firefox 3.xx. Live bookmarks change just like the Latest Headlines feature in Firefox. To create a live bookmark in Firefox, click on the orange

icon in the your toolbar available on this page plus Calvary and Deer Park home pages.
When a Deer Park Community Center page has new content, the live bookmark is also updated without visiting the site. The entire feed is not shown in a bookmark, just the title. The entire content of the feed must be viewed in an RSS reader.
The Opera web browser will also correctly display RSS newsfeeds using the XML link below.
(Spring 2006) Internet Explorer 7
Microsoft's Internet Explorer 7 is now available for download from their website and it supports RSS-XML feeds. Look for the

icon indicator on RSS websites.
January 1, 2008
Ipod Touch and iPhone users should click on the link below to see the DPCC RSS-XML feed.

  http://deerparkwi.org/rss/dp.xml